At Windy Acres Puppies, potential dog owners will be able to find a wide selection of numerous dog breeds. Located in Illinois, Windy Acres Puppies provide connections helping local dog breeders and interested dog owners find the perfect connection. Their puppies for sale in Illinois are healthy since they're well-taken care of and consume high-quality food for their dietary needs. In this article, "Windy Acres Puppies Review," we'll go over what breeders here provide, and hopefully, you'll bring home a companion in no time!
Available Puppies For Sale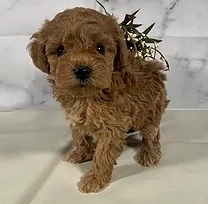 At Windy Acres Puppies, they have a variety of dog breeds for you to choose from. From designer breeds to purebred dogs, you're bound to go home with a companion in no time.
Here's a list of what Windy Acres Puppies have to offer:
Toy Poodle
Pembroke Welsh Corgi
Aussies
Cavapoo
French Bulldog
Mini Aussiedoodle
Mini Aussie
Havanese
Mini Bernese Mountain Dog
Tiny Bernedoodle
Comfort Retrievers
Cockapoo
Teddy Bears
Boston Terrier
Shih Poos
Cavalier King Charles Spaniel
Shih Tzu
Bernese Mountain Dog
Poochon
Cocker Spaniel
Coton de Tulear
For any information about these puppies for sale in Illinois, you can contact them via email or phone number (call or text) for updates. Windy Acres Puppies truly care about their community, litters, and customers. Genuine and kind, your experience here will help you understand why they're one of the most reputable breeders in Illinois.
Visitation
In case you're interested in scheduling a day to visit adorable puppies and finding a compatible dog breed, then you can schedule a day with either Randall or Laura. Don't hesitate if you're nearby! You'll never know. Maybe the perfect companion could be waiting for you at Windy Acres Puppies.
Family Oriented
Windy Acres Puppies is like family to their community in Illinois. With love for the community, puppies, and clients from other locations in the United States. Breeders here flood their puppies with constant love and affection. From experience, many new dog owners are content and happy with their adoption process.
Transportation
At Windy Acres Puppies, transportation is provided for newly adopted puppies. If traveling to these breeders in Illinois is out of the way for you, then you should be alright as long as you're in the United States. Windy Acres Puppies can transport puppies around North America with a high success rate! Most importantly, they make sure that your companion will be safe before arrival because that's the #1 priority.
Windy Acres Puppies Business Details
You can use the following information below to stay updated with the latest dogs. For any questions or concerns about WIndy Acres Puppies, don't hesitate to call or text them.
Conclusion
Overall, Windy Acres Puppies is definitely recommended by our team at Smiling Bulldogs. We hear good things about them. In case you're searching for other breeders in Illinois, we recommend that you check and read reviews. By supporting reputable and caring breeders, you're supporting good ethical businesses.
Check out our latest breeder reviews: